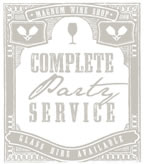 Beer
Our selection of beers is second to none. Our core British range includes Arbor from Bristol, Ramsbury Brewery from Wiltshire, and Hop Kettle from Swindon. From Germany, we have Erdinger and Schneiderweisse, Trappist beers from Rochefort and Westmalle, as well as Kwak, Leffe and Chimay.
New breweries and beers arrive on a weekly basis, and all new arrivals will be posted on our
Untappd.
Oktoberfest 2021 Beers
Erdinger Oktoberfest 5.70% £3.09
Hacker Pschorr Oktoberfest Marzen 5.80% £3.29
Lowenbrau Oktoberfestbier 6.10% £3.29
Spaten Oktoberfestbier 5.90% £3.29
We also have Erdinger, Paulaner and Hofbräu steins available for £9.99.
Bushel + Peck Cider Pack -
Rich + Mellow, Smooth + Subtle, Fresh + Crisp
- £10.99
Brugse Zot 4 Beers + Glass set -
2x Blond, 2x Dubbel
- £27.99
Delirium 4 Beers + Glass set -
4x Blond
- £27.99
Beers currently available as of 21th January 2022
British bottled beers
Hop Kettle Brewing Co. Red Star Red Ale 5.20% £3.29
Hop Kettle Brewing Co. Shooting Star Pilsner 4.80% £3.29
Hop Kettle Brewing Co. Equuleus Pale Ale 4.30% £2.99
Hop Kettle Brewing Co. Supernova Motueka Single Hop Stars 5.60% £3.79 (gluten free)
Hop Kettle Brewing Co. Supernova Ekuanot Single Hop Stars 5.60% £3.79 (gluten free)
Hop Kettle Brewing Co. Supernova Amarillo Single Hop Stars 5.60% £3.89
Hop Kettle Brewing Co. Space Cowboy Milk Stout £3.29
Hop Kettle Brewing Co. Phoenix Rising Pale Ale Rotary Charity ed. 4.50% £2.59
Hop Kettle Brewing Co. Flapjack Black Woodpecker Series, Barrel Aged No. 1, No. 2, and No. 3, all 7.80% and £3.49
Plain Ales Independence American Pale Ale 4.50% £2.99
Plain Ales Incognito Port Stout 4.80% £2.99
Plain Ales Innocence Golden Ale 4.00% £2.59
Plain Ales Sleep Dip Amber Ale 3.80% £2.59
Ramsbury 506 Blonde Beer 5.00% £2.59
Ramsbury Gold Golden Ale 4.50% £2.59
Ramsbury Belapur IPA 5.50% £2.59
Ramsbury Flint Knapper 4.20% £2.59
Samuel Smith India Ale 5.00% £2.89
Samuel Smith Organic Chocolate Stout 5.00% £2.99
Samuel Smith Tadcaster Pale Ale 5.00% £2.99
British canned beers
Arbor Ales All The Simcoe Ladies DDH Simcoe IPA 7.20% £3.99
Arbor Ales Boomchocolaca Double Milk Chocolate Stout 8.00% £5.29
Arbor Ales C-Bomb Extra Pale Ale 4.70% £3.49
Arbor Ales Extra Special Bluesky Extra Special Bitter 6.00% £3.59
Arbor Ales Faked Alaska Pudding IPA £4.29
Arbor Ales Gal-Azacca New England IPA 6.20% £3.89
Arbor Ales Gneipa Ginger New England IPA 6.00% £3.99
Arbor Ales + Weird Beard Brew Co. I'm Bryan Imperial Stout 10.00% £4.49
Arbor Ales Lager (gluten free)5.20% £3.49
Arbor Ales Massive Azacc Azacca NE Pale Ale 5.40% £3.49
Arbor Ales Midnight Blue Stout 5.80% £3.59
Arbor Ales Motueka Single Hop IPA 4.00% £3.49 (gluten free)
Arbor Ales Mosaic Single Hop Pale Ale 4.00% £3.49 (gluten free)
Arbor Ales My Little Sabrony Single Hop American Pale Ale 5.00% £3.49
Arbor Ales Pocket Rocket Session Pale Ale 3.90% £3.49
Arbor Ales Rocketman American India Pale Ale 6.00% £3.69
Arbor Ales Saison DuPink Pink Peppercorn Saison 5.80% £3.59
Arbor Ales Sean of the Red American Red Ale 5.10% £3.79
Arbor Ales Shambala IPA 6.80% £3.99
Arbor Ales Shangri-La Session India Pale Ale 4.20% £3.49
Arbor Ales Talus in Wonderland American Pale Ale 4.80% £3.49
Arbor Ales The Devil Made Me Brew It Dry Hopped Stout 5.50% £3.59
Arbor Ales Yakima Valley American IPA 7.00% £3.99
Black Isle Brewing x Arbor Ales Most Holy Helles Lager 4.80% £3.99
Brew by Numbers Chocolate & Orange Stout 7.20% £3.39
Buxton Brewery x Omnipollo Coward 2021 Peanut Butter Biscuit Stout 11.00% £7.99
Deya Brewing Co Steady Rolling Man Pale Ale £5.20% £4.99
Deya Brewing Co Magazine Cover Session IPA 4.20% £4.19
Drop Project Vortex TIPA 10.00% £6.49
New Bristol Brewery Talus About It Single Hop IPA 6.50% £4.19
New Bristol Brewery The Boogie Below Milkshake IPA 6.50% £3.49
New Bristol Brewery Stand & Vanilla IPA 5.00% £3.59
New Bristol Brewery Fire Strata IPA 5.00% £3.59
New Bristol Brewery The Happy World of Sabro Single Hop Centric IPA 4.50% £3.49
New Bristol Brewery Wonderland New England Pale Ale 4.10% £3.29
New Bristol Brewery Mello Yellow IPA 5.20% £3.49
New Bristol Brewery Summacrush Galaxy Hop Session IPA 4.00% £3.29
New Bristol Brewery Mid-Life Cryo Session Pale 4.30% £3.29
New Bristol Brewery Lime & Raspberry Crumble Sour 6.00% £4.29
New Bristol Brewery Salted Chocolate Bigger Cinder Toffee Stout 10.50% £5.29
New Bristol Brewery Espresso Martini Cinder Toffee Stout 7.00% £4.39
New Bristol Brewery Cinder Toffee Stout 4.00% £4.39
Overtone Milk Chocolate Stout 6.20% 4.49
Polly's Goldroom Pale Ale 5.60% £4.49
Pollys Intro Powerslide IPA 6.70% £4.89
Pressure Drop You Might Be Right New England Pale Ale 5.50% £4.69
Pressure Drop Visit The Mountains Fresh Hop IPA 6.50% £4.89
Reaper Sticky Toffee Pudding Stout 10.00% £5.49
Severn Brewing English IPA 5.50% £2.59 (gluten free)
Severn Brewing English Lager 4.00% £2.59 (gluten free)
Severn Brewing Chocolate Stout 4.30% £2.59 (gluten free)
Severn Brewing Ruby Porter 4.80% £2.59 (gluten free)
The Wild Beer Co. Millionaire Milk Stout 4.70% £2.19
Tiny Rebel Stay Puft Marshmallow Porter 5.20% £2.49
Tiny Rebel Blueberry & Mango Smoothie IPA 5.80% £3.99
Tiny Rebel Muscle Milk Protein Shake IPA 5.80% £3.99
Tiny Rebel Beerocca Orange Flavour Multi-Vitamin IPA 5.80% £3.99
Verdant 20 Watt Moon IPA 6.50% £4.99
Verdant Headband Pale Ale 5.59% £4.39
Verdant Lightbulb Extra Pale Ale 4.50% £3.69
Verdant Neal Gets Things Done IPA 6.50% £5.39
Verdant Remembering Things I Didn't Do West Coast IPA 6.00% £4.99
Verdant Timing's End IPA 6.50% £4.99
Wylam Brewery x Verdant Crying the Neck Wheat DIPA 8.00% £6.49
Wylam Brewery Poundage Porter 5.50% £3.49
Wylam Brewery My Pal Pale Ale 5.40% £4.19
Yonder Boogie Modern Bitter 3.80% £3.19
Yonder Lupercalia Imperial Stout 9.60% £6.99
German Beers
Augustiner Lagerbier Helles 5.20% £2.99
Augustiner Edelstoff 5.60% £3.19
Bacchus Kriek 5.80% £3.99
Brugse Zot Blond Golden 6.00% £2.59
Brugse Zot Brune Dubbel 7.50% £2.79
Flensburger Pilsener 4.80% £2.09
Flensburger Gold 4.80% £2.09
Fruh Kolsch 4.80% £2.59
Hacker Pschorr Kellerbier Helles 5.50% £3.09
Hacker Pschorr Munchner Gold Helles 5.50% £3.09
Hofbrau Original Helles 5.10% £2.69
Hofbrau Dunkel Helles 5.50% £2.69
Kloster Andechs Spezial Helles 5.90% £3.09
Kloster Andechs Bergbrock Hell 6.90% £3.39
Krombacher Pilsener Pilsener 4.80% £2.39
Kwaremont Blond 6.60% £2.59
Lowenbrau Original Helles 5.20% £2.99
Maisels Weisse Weiss 5.40% £2.39
Paulaner Hefe Weiss 5.50% £2.79
Paulaner Munchener Helles 4.90% £2.79
Schlenkerla Lager Lager Helles 4.30% £2.59
Schlenkerla Lager Lager Rauchbier Marzan 5.10% £2.79
Schneider Weisse Aventinus 8.20% £3.99
Schneider Weisse Tap 1 Helle Weisse 4.90% £2.69
Schneider Weisse Original Tap 7 5.40% £2.79
Spaten Munchen 5.20% £2.89
Tegernseer Hell Helles 4.50% £3.09
Tegernseer Export Dunkle Dunkel 5.00% £3.19
Tripel Karmeliet 8.40% £3.29
Weltenburger Kloster Barock Dunkel 4.70% £2.89
Ciders
Dunkerton's Premium Reserve 6.80% £2.99
Harry's Original 6.00% £2.89
Harry's Dabinett 4.50% £2.89
Harry's Applemoor 5.00% £2.89
Hop Kettle Falling for Fruit Raspberry and Rhubarb 4.00% £3.29
Pearson's Cider Co Medium Dry Medium Dry 5.80% £2.79
Perry's Puffin Dry 6.50% £2.69
Perry's Grey Heron Sweet 5.50% £2.59
Perry's Barn Owl Medium 6.50% £2.59
Saxby's Plum Fruit 3.80% £2.75
Saxby's Strawberry 3.80% £2.89
Samuel Smith's Organic Cider 5.00% £2.99
Samuel Smith's Organic Perry 5.00% £2.99
Trappist / Abbey Style Beers
Chimay Blue Dark Red Triple 9.00% £3.79
Chimay Red Brown 7.00% £2.89
Chimay White Triple 8.00% £2.89
Chimay 150 Blonde 10.00% £4.39
Bacchus Frambozenbier 12.50% £4.09
Bacchus Kriekenbier 15.00% £4.09
Delerium Nocturnam 8.50% £3.49
Delerium Delerium Red 8.00% £3.39
Delerium Delerium 8.50% £3.39
Duvel 6.66 £3.19
Grimbergen Triple 9.00% £4.59
Gulden Draak Dark Red Triple Dark Red Triple 10.50% £4.09
Gulden Draak 9000 Quadruple 10.50% £3.99
Kwak 8.40% £3.19
La Chouffe Blond Blond 8.00% £3.19
N'ice Chouffe 10.00% £4.39
Leffe Rituel Rituel 9.00% £3.59
Orval 6.20% £2.99
Rochefort 8 9.20% £3.89
Rochefort 10 11.30% £4.79
Tynt Meadow 7.40% £2.69
Westmalle Dubbel Dubbel 7.00% £2.59
Westmalle Tripel Tripel 9.50% £3.59
Low Alcohol Beer
Big Drop Brewing Co Paradiso Citra IPA 0.50% £1.79 (gluten free)
Big Drop Brewing Co Pine Trail Pale Ale 0.50% £1.79 (gluten free)
Big Drop Brewing Co Galactic Milk Stout 0.50% £1.79 (gluten free)
Big Drop Brewing Co Uptime Craft Lager 0.50% £1.79 (gluten free and vegan)