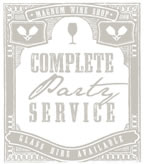 Events
Each season we curate a flight of 6 gins, which we usually present four times. After a glass of fizz we ask guests to stand at a station where the gins are presented one by one over ice. We encourage patrons to try each gin straight before adding tonic. We do not garnish the gins so that the differences between each gin are not masked.
Due to safety considerations all tastings, of spirits or wines, are standing events.
Brian is currently nailing down some dates for appearances by wine makers but these events are currently planned.
Tastings
The Samaritans Wine Tasting
22nd September 2017 7.00pm
Magnum are proud to host a fundraising event in aid of Swindon Samaritans. Tickets, which are unreserved are £20 cash only from the shop. Please note that this is a standing event.
The Gins of Autumn
20th October 2017 7.00pm
This is the first presentation of our latest line up of gins. Tickets, which are unreserved and non negotiable are £20 available in advance only from the shop or call Brian or Sarah on 01793 642569 to make your purchase. Please note that this is a standing event. Don't even ask for a chair!