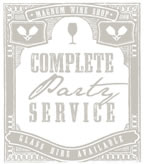 Wine Offers
Jacob Marley's Mulled Wine £4.99
Artesa Rioja Rosado - down from £8.99 to £7.99
Whites
Umbrele Pinot Grigio Romania - down from £7.99 to £6.99
Campo Flores Organic Verdejo/Macabeo Spain - down from £7.99 to £6.99
Bottega Vinai Pinot Grigio Trentino Italy - down from £10.99 to £8.99
Kalkstein Riesling Pflaz Germany - down from £9.99 to £8.99
Quinta de Fonte Souto Florao Alenteso Portugal - down from £12.99 to £9.99
Tyrrells Old Winery Chardonnay Australia - down from £11.99 to £9.99
Luis Canas Blanco Rioja Spain - down from £11.99 to £9.99
E. Guigal Cotes Du Rhone Blanc France - down from £12.99 to £10.99
Felino Chardonnay Mendoza Argentina - down from £15.99 to £12.99
Vina Cobos Felino Chardonnay Mendoza Argentina - down from £14.99 to £12.99
Bouchard Pere & Fils Chardonnay / Bourgogne France - down from £18.99 to £15.99
Pazo Senorans Albarino Rias Baixas Spain - down from £18.99 to £15.99
Domaine Serge Laloue Sancerre France - down from £20.99 to £17.99
Chablis William Fevre France - down from £23.99 to £19.99
Reds
Umbrele Syrah Romania - down from £7.99 to £6.99
Campo Flores Organic Tempranillo/Syrah - down from £7.99 to £6.99
Cabaret Frank Old Vine Cabernet Franc 2018 California - down from £8.99 to £7.99
Bottega Vinai Trentino Merlot Italy - down from £10.99 to £8.99
Tyrrells Old Winery Pinot Noir Australia - down from £12.99 to £9.99
Vino de Montana Sierra de Gata Spain - down from £11.99 to £9.99
Santa Macarena Pinot Noir Aconcagua Chile - down from £10.99 to £9.99
Quinta de Fonte Souto Florao Alentejo Portugal - down from £12.99 to £9.99
Casas del Bosque Carmenere Rapel Valley Chile - down from £11.99 to £9.99
Chateau Gramondie Bordeaux France - down from £10.99 to £9.99
E. Guigal Cotes Du Rhone Rouge France - down from £12.99 to £10.99
Cordillera Carmenere Chile - down from £15.99 to £12.99
Felino Malbec Mendoza Argentina - down from £15.99 to £12.99
Ricasoli Antico Feudo Della Trappola Tuscany Italy - down from £15.99 to £12.99
Bodegas Luis Canas Crianza - down from £15.99 to £12.99
Ondarre Rioja Gran Reserva Spain - down from £15.99 to £13.99
Yalumba Samuels Collection Barossa Grenache - down from £16.99 to £13.99 - back soon!
Quinta da Fonte Souto Alentejo Portugal - down from £18.99 to £14.99
Bouchard Pere & Fils La Vignee Bourgogne Pinot Noir France - down from £18.99 to £15.99
Vaccination Nation Suggestions
We have a great range of good value wines that are perfect for everyday drinking.
Current list as of 20th January 2022.
Sparkling
Le Dolci Colline Prosecco Veneto Italy £9.99
Whites
Bellefontaine Chardonnay Pays D'Oc France - £6.99
Borsao Clasico Macabeo 2019 Spain - £6.99
Cape 1652 Chenin Blanc South Africa - £6.99
Kaap Plaas Semillon/Sauvignon Blanc S. Africa - £6.99
Principato Pinot Grigio Italy - £6.99
Umbrele Pinot Grigio Romania - £6.99
Campo Flores Blanco Organico Spain - £6.99
De Bortoli The Accomplice Semillon / Sauvignon Blanc Australia - £6.99
Rosé
Artesa Rioja Rosado Spain - £6.99
Principato Pinot Grigio Rosé Pavia Italy - £6.99
Bellefontaine Grenache Rosé Pays D'Oc France - £6.99
Borsao Clasico Rosado - £6.99
Reds
KWV Merlot South Africa - £6.99
Campo Flores Tinto Organic La Mancha Spain - £6.99
Clasico Ventisquero Chile - £6.99
Pasquiers Shiraz France - £6.99
Umbrele Syrah Romania - £6.99
Bellefontaine Malbec France - £6.99
De Bortoli The Accomplice Shiraz Australia - £6.99
Ca di Ponti Nero D'Avola Sicily - £6.99
Les Oliviers Merlot / Mourvedre 2019 Pays D'Oc France - £6.99
Terra Boa Old Vine Tinto Portugal - £6.99
Tabula Rasa #V18R - £6.99
Calusari Pinot Noir Romania - £6.99
Borsao Seleccion 2020 Spain - £7.99