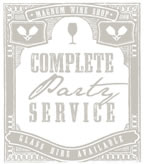 What's New
The Gins of Late Summer 2018
Muff
From the village of Muff in Donegal, this zesty number uses a base spirit of four varieties of Irish potatoes distilled 6 times. It contains coriander, angelica, mandarin, lemon, rosemary and elderflower.
Bramley & Gage Jekka Edition
The latest expression from the 6 O'Clock stable contains herbs from Jekka McVicar's herb garden and includes lemon verbena, swiss mint and blackcurrant leaf.
Henstone
A beautifuly aromatic gin from Oswestry which contains fresh citrus peel, coriander, cardamom, angels wreath and hops.
Orangery
The latest expression from Graham Kerr-Smith of the English Drinks Company. It features Valencian oranges for zesty citrus notes and a delicate smooth finish.
Gin Eva
Craft gin made by two germans in Majorca, featuring wild Phoenecian juniper and lemons foraged from the island.
Poetic License Tutti Frutti
The latest rarity conjured up by distiller Luke Smith. It's a distilled fruit smoothie!