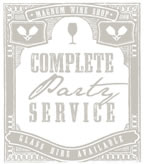 What's New
Wines
Autumn Wine Tasting
27th October 2017
The Fizz
1. La Vida al Camp Brut Cava Spain £13.99
A delightfully fresh and elegant style of Cava with lively citrus characters and lovely balancing acidity
The Whites
2. Joyau Gros Manseng/Chardonnay 2016 Cotes de Gascogne France £ 7.99
A zesty and aromatic white from Gascony; pineapple, apricot and melon with a dash of pink grapefruit – an exotic fruit salad.
3. Keith Tulloch Ephemera Viognier/Pinot Gris 2016 S.E. Australia £ 9.99
Poised and precise with hints of lemongrass and fresh ginger, it is bright and fine but has depth and a fresh long finish.
4. Domaine de la Motte Chablis 2014 Vieilles Vignes France £15.99
With wonderful aromas of baked apples, the age of the vines has added complexity, richness and depth of flavour; a textured and full flavoured expression of Chablis.
The Reds
5. Linaje Garsea 2016 Ribera del Duero Spain £10.99
An intense wine with vibrant aromas of black fruits complemented by hints of cinnamon and vanilla, medium bodied on the palate bursting with blackberry, currant and plum flavours.
6. Berton Vineyard Durif 2016 S.E. Australia £11.99
Deeply rich and inky purple in colour, this showsrich, ripe concentrated fruit bursting with varietal aromas of anise and blackberry. Subtle hints of violet, spice and chocolate enhance the fruit forward palate.
7.Cline Family Vineyards Mourvedre 2015 Contra costa County U.S.A. £15.99
Distinct and luscious with flavours of dark plum and chocolate leading to a hint of oak and a smooth finish. A blockbuster of a wine not for the faint hearted!
The Port
8. Krohn Colheita 2004 Portugal £19.99
A tawny Port from a single year with a fine and comlex bouquet, a nutty character and a silky texture.