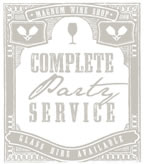 What's New
The flight for the Gins of Summer 2019 is as follows
1.
Hilbing Malbec Gin
£39.99
An Argentinian gin which features Malbec raisins as a botanical.
2.
Lind & Lime
£37.99
A beautifully presented citrus packed gin from Leith.
3.
Chilgrove Blue Water Edition
£39.99
A grape spirit based expression from Sussex featuring Australian botanicals.
4.
Gin Eva Bergamot
£49.99
An exquisite artisan gin from Mallorca
5.
Divine Raspberry
£39.99
A dry (no added sugar!) raspberry infused gin from Holmfirth, Yorkshire
6.
Two Birds Watermelon
£31.99
The latest fruit gin from Market Harborough's finest!
Wines
Fizz
Laborie Method Cap Classique Blanc de Blancs 2011 down from £14.99 to £11.99
Deliciously bready and nutty with a savoury undertone.
Whites
Torres Vina Esmeralda down from £8.99 down to £6.99
Made from Muscatel and Gewurztraminer grapes, this off dry white has aromas of honeysuckle and pears and a palate packed with ripe fruit flavours.
Fontanino Riesling 2016 down from £9.99 to £7.49
A single vineyard dry white from the Monteprato region of North Italy which has lovely lime and lemongrass notes with mineral acidity.
Caparrone Pecorino 2018 down from £9.99 to £8.49
From a family winery in the Abruzzo region of Italy this cracker is crisp and zesty with fresh peachy, tropical fruit characters.
Swartland Winery Viognier 2018 down from £11.99 to £9.49
Rhone varietals thrive in this exciting region of the Western Cape of South Africa and this creamy textured viognier has vanilla and citrus notes with a crisp refreshing finish.
Rosé
Adobe Organic Rose 2018 Chile down from £8.99 to £6.99
Made from Syrah and Cabernet Sauvignon grapes, pale pink in colour with gentle strawberry and red cherry aromas it has fresh summer fruits on the palate with a crisp and refreshing finish.
Ontanon Clarete 2018 Rioja down from £9.99 to £7.99
Made predominantly from Viura with 15% Tempranillo and just the shortest skin contact to give a hint of pink. Red fruit characters with vibrant acidity makes for delicious sunshine sipping.
Reds
Mantlepiece Cinsault 2017 down from £8.49 to £6.99
Produced from 35 year old bush vines in South Africa, this full red is packed with juicy red fruit flavours.
Montresor Bardolino 2017 down from £9.99 to £7.99
This is the perfect summer red, a lighter style with fresh red cherry fruit.
Novas Gran Reserva Cabernet Sauvignon down from £10.99 to £8.99
Medium bodied with plenty of black fruit flavours with hints of chocolate.
The Top 100 best value red,
Brisa De Verano Garnacha 2017 £8.99
has dark plum and bramble fruit aromas, layers of red fruit, blackberry and mocha notes with a soft ripe finish.
Dona Paula Estate Blue Edition Malbec / Pinot Noir 2016 down from £13.99 to £9.99
From a seriously high altitude vineyard in Lujan de Cuyo, Mendoza there are wild berry notes from the Malbec which combine with bright cherry Pinot Noir flavours.