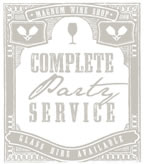 What's New
Wines
In this note we are featuring winners in the Wine Merchant Top 100 awards. These are wines which are aimed primarily at independent wine merchants and are judged by specialist independent wine merchants.
The
Courtesan Riesling 2015 (£10.99)
from One Chain Vineyards is made from grapes sourced from the Watervale sub region of Clare Valley. Capturing all the mouthwatering lime and elderflower character one expects from great Riesling, it was described by the judges in the Wine Merchant Top 100 tasting as being a textbook consumer friendly Australian Riesling with citrus fruit dominating on the nose, while the palate is generous and mouth filling.
The Novas Gran Reserva Sauvignon Blanc 2015 (£9.99) from San Antonio, Chile is both organic and biodynamically produce and is suitable for vegans. It has a nose of delicate elderflower blossom with an elegant and restrained palate featuring minerals and almonds with great balance. All in all it offers Old World complexity at New World prices. It would make a perfect match for fresh fish and sushi as well as fresh cheeses.
Turning to the reds, The Cloud Factory Pinot Noir 2014 (£9.99) hails from the south easterly extremes in the Blind River Valley of Marlborough, New Zealand. It has enough bite and texture to be foody but with enough fruit to be a generous glass on its own. The judges described it as a great entry level Pinot Noir with a pale appearance, a jammy red-fruit nose and good balance; fresh, lively and clean with gentle tannins.
The Cantine San Marzano Talo Primitivo Di Manduria 2013 (£13.99) from Puglia, Italy, was described by the judges as a textbook Primitivo with intense current aromas, a touch of menthol and lively cherry fruit, some tannic grip and dense fruit on the palate. It is best served with lamb or game with rich sauces or hard cheeses.
A long-time favourite of ours, the Luis Canas Reserva Seleccion De La Familia 2008 (£19.99) from Rioja, Spain was described by the judges as having a youthful appearance, considering its age, with deep chocolate notes, dark fruits and spice. A thick oily palate with mouth-coating, dense voluptuous notes, this is a very good wine and great Christmas gift. It is best served with roasted lamb and beef or caseroles.
Gin
We have increased the number of gins in stock to over 200 with examples from both near and far. From Four Marks, Hampshire, we have Silverback Mountain Strength. Made from British wheat spirit and featuring juniper, angelica, calamus root, sweet orange, coriander, acacia blossom and lemongrass and bottled at 46% ABV, there are notes of coriander and orange zest on the nose, herbaceous spice and orange sweetness on the palate with a clean citrus finish.
One of the latest gins to arrive is Sir Robin of Locksley, a small batch artisan gin created in Sheffield which numbers dandelion and elderflower amongst its botanicals. On the nose the dominant notes are citrus with grapefruit and coriander combining to bring a clean bright lemony element. On the palate the juniper is prominent with herbaceous elderflower coming through alongside notes of cassia and liquorice which mellow out to bittersweet grapefruit notes.