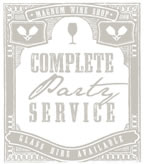 What's New
Easter Offers
Champagne Henriot Brut Soverain Down from 39.99 to 29.99
Champagne Louis Roederer Brut Premier Down from 39.99 to 32.49
Champagne Bollinger Special Cuvee Down from 44.99 to 36.99
Whites
Torres Dry Muscat Chile Was 8.99 Now 6.99
Altano Douro Blanco Portugal Was 9.99 now 7.99
Colomba Blanca Grillo Sicily Was 9.99 now 7.99
Santa Macarena Sauvignon Blanc Chile Was 9.99 now 7.99
Tyrrell's Old Winery Verdelho Australia Was 12.99 now 9.99
Bouchard Pere et Fils Macon Lugny France Was 16.99 now 13.99
Yalumba Y Series Unwood Chardonnay Australia Was 10.99 now 8.99
Reds
Altano Douro Organic Portugal Was 10.99 now 7.99
Colomba Blanca Nero D'Avola Sicily Was 9.99 now 7.99
Via De Oja Crianza Rioja Was 10.99 now 8.99
Yalumba Y Series Shiraz/Viognier Australia Was 10.99 now 8.99
Tyrrell's Old Winery Pinot Noir Australia Was 12.99 now 9.99
Dona Paula Estate Malbec Argentina Was 13.99 now 9.99
Chateau De Belleverne Chenas France Was 12.99 now 9.99
Toress Celeste Ribera del Douro Spain Was 15.99 now 11.99
The flight for the Gins of Spring 2019 is as follows
1. Four Feathers London Dry Gin £27.99
The latest expression from Sion Edwards.
2. Wood Brothers Single Estate Gin £36.99
Produced by brothers Ed and Charlie Wood, using vodka distilled from their farm.
3. NAUD Gin Cognac, France £38.99
A juniper prominent gin with distinctive notes of bergamot.
4. Dartmouth English Gin £35.99
Bright juniper leads, among lavender and liquorice.
5. The Lemon Grove Premium Dry £33.99
Lemony goodness, ever so zesty with a delicate smooth finish.
6. Penrhos Rhubarb Gin £38.99
The finest botanicals combined with rhubarb from a Herefordshire farm