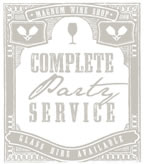 What's New
The Gins of Wales Tasting Notes
Forager's
Snowdonia Distillery was founded in 2015 by Chris Marshall.
About 200 bottles per week are made using a Hungarian copper still.
Only local Snowdonian botanicals including apple, elderberry, heather and gorse are used. The juniper is local as they have forager's rights to collect it.
The gin bursts with floral flavours from the mountain flowers and a subtle sweetness from the apple with the local juniper well-balanced amongst the botanicals.
Starting with soft juniper tones, Foragers gently takes you to fresh, semi-sweetness of apple and elderberry, before giving way to incredible, subtle, unmistakable floral notes from gorse and heather flowers. This truly is an authentic expression of Snowdonia.
Dyfi
Founded by two brothers Pete and Danny Cameron.
Pete describes himself as a hill farmer, forager and beekeeper.
Danny spent 30 years in the drinks business.
They make 3 gins; original with 8 botanicals.
Each bottle is signed and numbered.
Pollination has 29 botanicals. Not all of them are local. There isn't enough juniper in the valley yet; they can't dig up angelica root because that would breach the forager's code and there aren't any lemons growing in Wales.
ABV of 45%
The base ingredients are juniper, angelica, cassia, orris, lemon peel, almond and liquorice root.
Local ingredients include bog myrtle leaf, pine tips and gorse flower, rowan berries, rose hips, sloe, hawthorn flower and berries, elderflower, meadowsweet, heather, bramble leaves, birch leaves, sweet cicely and lemon balm.
They buy in British wheat spirit and steep the botanicals in the still overnight. Distilling takes place in two stills and takes a full day.
This is utterly delicious on the nose. It smells sweet, green, fresh and rich, with hints of gorse. There isn't a lot a juniper. The gin is both herbal and spiced on the tongue, as well as surprisingly savoury given the sweet smell.
The recommend serve is with torn mint leaves, braised juniper berries and a twist of unwaxed lemon peel.
Hibernation
The base ingredients are juniper, angelica, cassia, orris, lemon peel.
They then add crab apple, blackberries, bilberries and lingon berries.
It is then aged in a White Port barrel.
It is bottled at 45% and is non-chill filtered.
Danny sees it as a sipping gin or in a martini or negroni but is does partner tonic well.